"Running a shop can be busy and writing estimates takes time, why not put your follow up on easy mode?" - Casey Bock
Introduction:
Are you tired of missing out on valuable leads in your busy auto repair shop? The reality is, without proper follow-up and lead nurturing after sending an estimate, you may be losing opportunities and potential revenue. But fret not! Aventor Media presents the ultimate solution to revolutionize your sales process – Automated Lead Nurturing. In this blog post, we'll explore how our advanced software and expert services can save you time, increase conversions, and take your auto repair shop to new heights.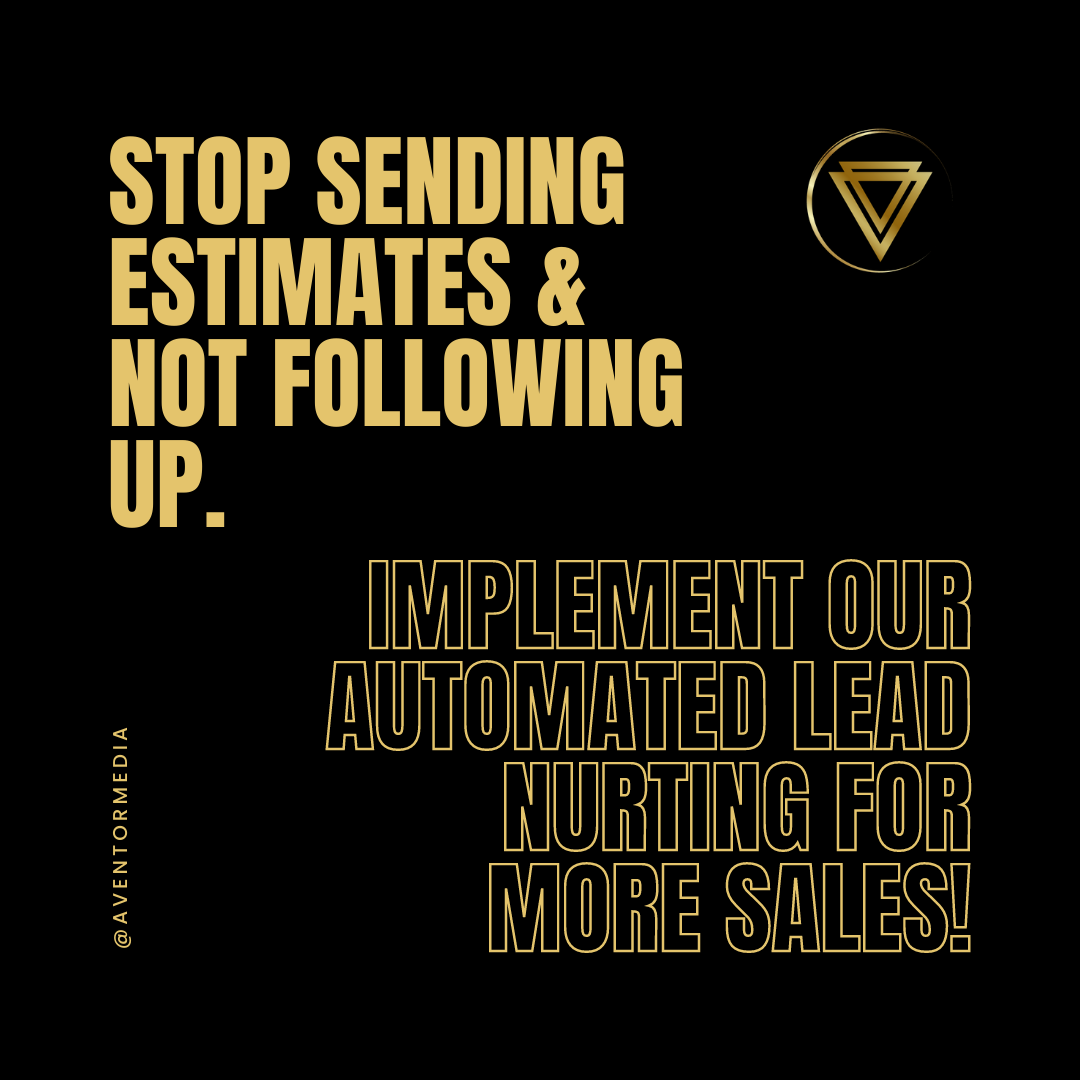 Dive deeper into our automated lead nurturing. 👊
1. The Challenge of Missed Follow-ups and Lost Opportunities:
In the fast-paced world of auto repair, staying on top of follow-ups can be a daunting task. Busy schedules, multiple inquiries, and the sheer volume of estimates can lead to missed opportunities and lost revenue. Every missed follow-up is a potential customer slipping through the cracks, choosing a competitor instead. However, with Automated Lead Nurturing, you can break this cycle and ensure no lead goes untouched.
2. Unleashing the Power of Automation:
Aventor Media's Automated Lead Nurturing takes the guesswork out of lead management. By leveraging our advanced software, you can automate the entire follow-up process after sending an estimate. From personalized email sequences to targeted text messages and automated reminders, our system works tirelessly to keep your leads engaged and interested in your services.
3. Nurturing Leads for Higher Conversions:
Effective lead nurturing is the key to converting prospects into paying customers. With Automated Lead Nurturing, you can provide a seamless and personalized experience for each lead. Tailored content, valuable resources, and timely communications help build trust and keep your auto repair shop top of mind. By nurturing leads consistently, you increase the chances of closing the sale on that crucial repair job.
4. Time-Saving Benefits for Auto Repair Shops:
Automated Lead Nurturing not only boosts conversions but also saves you precious time. Our system takes care of the repetitive and time-consuming tasks of follow-up, freeing you to focus on what you do best – delivering exceptional repairs. You can rest assured that your leads are receiving the attention they deserve, without requiring constant manual effort from your team.
Conclusion:
Don't let missed opportunities hinder the growth of your auto repair shop. Embrace the power of Automated Lead Nurturing from Aventor Media and transform the way you engage with prospects. By automating your lead nurturing process, you'll save time, increase conversions, and stay ahead of the competition. Take the first step toward maximizing your sales and customer satisfaction today.
Ready to unlock the full potential of your leads? Contact Aventor Media and schedule a consultation to learn how Automated Lead Nurturing can revolutionize your auto repair shop's sales process. Don't let valuable opportunities slip away – automate your lead nurturing today!